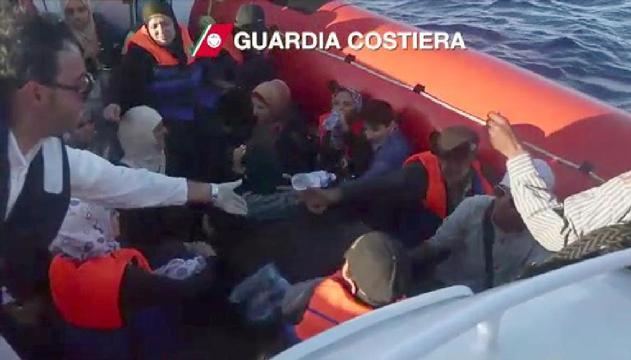 The Italian Coast Guard rescued Syrian refugees off the coast of Syracuse on Dec. 7 in one of dozens of rescue operations this year of refugees arriving by boat in Sicily from North Africa and the Middle East.
Italian Coast Guard rescues 120 Syrian refugees near Syracuse
Flow of migrants by boat to Sicily continues unabated
Dec. 7, 2013 -- The Italian coast guard announced on Dec. 7 that one or more of its ships rescued 120 refugees from Syria in a stranded vessel off the southeast coast of Sicily that was "at the mercy of the waves."
A statement posted on the coast guard website said the refugees, including women and children, were taken to the port of Syracuse where they were to be processed by Italian authorities.
The rescue came five days after Italian navy and coast guard boats rescued a similar number of mostly Syrian refugees off the Italian mainland coast of Calabria.
The coast guard statement said the latest rescue efforts were part of Operation Mare Nostrum, a massive air and sea effort launched in October by Italian Prime Minister Enrico Letta and Defense Minister Mario Mauro in response to the capsizing of a refugee boat near the Island of Lampedusa south of Sicily that took the lives of 366 migrants.
The drowning of such a large number of refugees at sea – in this case from Syria, Eritrea, and Somalia -- shocked Italian officials and citizens alike, prompting Italy to step up its calls for greater assistance from the European Union for an international refugee problem that has impacted Italy and Sicily more than any other country.
Italian officials said more than 35,000 refugees have arrived in Italy by sea – most in Sicily and Lampedusa – since January 2013. Out of that number, about 25,000 were rescued at sea by naval, coast guard and private fishing vessels, Italian officials said.
Operation Mare Nostrum, a Latin term meaning "Our Sea," involves the use of amphibious ships, unmanned drones and helicopters with infrared viewing devices aimed at helping locate refugee boats in distress before another tragic event results in more deaths, according to Defense Minister Mauro.
"It will be a military and humanitarian operation to reinforce surveillance and rescue capabilities in the open sea, which will increase safety levels and save lives," Reuters news service quoted Mauro as saying.
Shortly after the refugee drownings in October, Letta called on the European Union to reinforce its border patrol program.
"But we cannot wait for the European institutions and parliament when we are talking about human lives," Euronews quoted him as saying. "We have to act immediately."
Hanukkah candle-lighting ceremony held in former prison in Palermo
Steri Palace prison used during Spanish Inquisition
Dec. 4, 2013 -- A prominent Jewish organization held a Hanukkah candle-lighting ceremony on Dec. 4 in the Steri Palace Prison in Palermo, where experts say Jews were once held captive during the Spanish Inquisition, according to a report by Forward.com, a Jewish community publication.
The report says the ceremony was sponsored by Shavei Israel, an organization led by Rabbi Pinchas Punturello. Punturello serves as the organization's emissary to the Bnei Anousim, or Crypto-Jews, of Sicily and southern Italy, according to Forward.com.
"For 200 years, Jews were tortured within the palace's walls, and many were then burned at the stake by the Inquisition for secretly practicing Judaism," the Forward.com quoted Michael Freund, Shavei Israel's founder and chairman, as saying. "In the place where the darkness of the Inquisition once predominated, the flicker of our Hanukkah candles now prevails."
Sicilian Swimmers help rescue
Syrian refugees in beach landing
Italian president: Rescuers
'do Italy proud'
Aug. 18, 2013 -- Dozens of swimmers frolicking in the surf along a popular beach on the southeast coast of Sicily swam out to sea on Aug. 16 to help the Italian Coast Guard rescue about 160 Syrian migrants arriving on a disabled boat.
The dramatic scene, which included swimmers carrying children to shore, was captured on video and broadcast by TV news outlets throughtout Italy.
The Syrian refugees were among more than 8,400 migrants and asylum-seekers that have landed on the coasts of Italy and Malta in the first half of 2013, according to the United Nations High Commissioner for Refugees.
A report released by the U.N. Refugee Agency in July says the majority of the refugees have arrived in Italy during that period, with most landing or being rescued in waters off Sicily by the Italian Coast Guard.
The largest number has landed, often in rickety boats, on the Sicilian Island of Lampedusa, which is located halfway between the south coast of Sicily and North Africa.
"The images aired by television channels of dozens of swimmers that from the beach pushed out generously to assist refugees coming from Syria, many of which were children, to reach the shore and safety do Italy proud," Italy's president, Giorgio Napolitano said in a statement.
"This shows how, when faced by tragedy – which is experienced on a daily basis on Lampedusa and elsewhere with arrivals of those escaping from wars and persecution – a sense of humanity and solidarity prevails in Italians, stronger than any sense of prejudice and fear," Napolitano said.
Lampedusa is the preferred destination of refugees headed for Italy. U.N. officials say most come from sub-Saharan Africa. But the Syrian migrants arrived on Aug. 16 on a beach in Pachino, a town on Sicily's southeast coast near Syracuse.
Hundreds of thousands of refugees have arrived in Sicily over the past decade, forcing Sicily and Italy to bear the brunt of what U.N. officials have called an international refugee crisis caused by war, oppression, and conditions of severe poverty in north and sub-Saharan Africa. Experts say the migrants' ultimate destination is any European country that will accept them, with Sicily and Italy serving as the gateway.
Lampedusa became the focus of international attention on July 8 when Pope Francis celebrated a mass on the remote island to commemorate the thousands of refugees that have died in their journey from Africa.
The Pope's trip to Lampedusa was his first official trip outside Rome, a development that Vatican officials said was symbolic of his strong interest in taking steps to help the poor as an important part of his papacy.
Migrant deaths near Sicily
prompt EU pledge of support
Survivors say 73 Eritreans died
at sea on boat headed for Lampedusa
The European Union has pledged to ask all of its member nations to share the burden of coping with the thousands of mostly African immigrants entering Europe illegally every year through Sicily and Italy.
An EU official made the pledge following the discovery in August 2009 that 73 migrants from Eritrea died onboard a boat en route from Libya to the Sicilian island of Lampedusa after the boat became stranded at sea for at least 20 days and ran out of food and drinking water.
The immigrant deaths triggered expressions of shock and outrage by human rights organizations, members of the Italian Parliament, and an Italian Catholic bishops' group after news surfaced that commercial ships may have spotted the stranded boat but made no effort to rescue its passengers.
Italy's Catholic bishops' daily newspaper Avvenire published an editorial condemning what it said was a lack of compassion and response by Italy and other European countries to the plight of thousands of desperate immigrants fleeing sub-Saharan Africa and seeking refuge in Europe.
The newspaper and other critics pointed to a new immigration policy by the Italian government of Silvio Berlusconi called "push-back," which calls for stopping immigrant boats at sea and forcing their return to Libya. United Nations experts on immigration have said that Libya for years has served as the main point of disembarkation for undocumented immigrants fleeing Africa.
Most of the immigrants use what little financial resources they have to pay human traffickers to take them from their home countries to Libyan ports, where the traffickers arrange for them to cross the Mediterranean in small, poorly maintained boats, U.N. refugee officials have said.
The Sicilian island of Lampedusa, which is located half way between the North African coast and Sicily, is the favorite landing site for the immigrant boats because it's Europe's closest outpost to Africa. Many of the immigrant boats bypass Lampedusa, however, and head for Sicily proper. Italian coast guard ships and Italian fishing boats often rescue immigrants after their boats capsize or sink in waters near Sicily.
The immigrants consider Sicily a gateway to the rest of Europe, where they hope to start a new life free from the harsh conditions, including civil war and poverty, they face in their home countries.
Local governmental officials in Lampedusa and other Sicilian provinces and towns have said their communities were taking the brunt of the burden as thousands of immigrants pass through their towns each year. Lampedusa is home to one of Italy's major immigrant processing centers.
Sicily is "paying too high a price just for being the gateway to Europe," said Italian Foreign Minister Franco Frattini in a statement praising the EU for promising to take steps to help ease the immigrant burden on Sicily and Italy.
The Italian news agency ANSA reported that the EU's duty president, Carl Bildt, the premier of Sweden, announced that EU ministers would bring up the immigrant question at a meeting in late October.
The hoped for action by the EU could be "a first but important turning point," ANSA quoted Frattini as saying.
The number of immigrant boat landings in Lampedusa and other parts of Sicily dropped dramatically beginning this spring as a result of the "push-back" immigration policy, Italian authorities have said. Human rights groups have criticized the policy, saying it violates international agreements on allowing refugees to seek political asylum.
Critics have said sending the immigrants back to Libya results in Libyan authorities forcing them back to their country of origin, where they could be subjected to imprisonment or death due to persecution.
Italy's interior minister, Roberto Maroni, has said a recent agreement between Italy and Libya calls for Libya to take into consideration asylum requests at the time the immigrants return to Libya after Italian authorities intercept their boats in Italian territorial waters.
New energy projects
announced for Sicily
Wind and solar 'farms,' liquid natural
gas plant set to begin construction
Aug. 21, 2009 -- Industry and government officials in August announced plans for building more wind turbines, a solar 'park,' and a large liquid natural gas terminal in Sicily over the next several years.
Enel, one of Italy's largest energy companies, plans to build the biggest of the three projects -- a $934.7 million liquefied natural gas import terminal in Sicily's southern coastal city of Porto Empedocle.
According to a statement released by the company on Aug. 6, Sicilian Regional President Raffaele Lombardo and Enel CEO and general manager Fulvio Conti signed a "protocol of understanding' calling for the development of environment-friendly energy projects, including the liquefied gas terminal and wind and solar energy fields in Sicily.
Liquefied natural gas, or LNG, is liquid form of natural gas produced as a means of transporting the gas in tanks when it's not possible or it's too expensive to transport it through pipelines. Italy generates most of its electricity from burning natural gas and it plans to obtain most of the gas for the new terminal in Porto Empedocle from Nigeria.
Head of prominent Sicilian
American group opposes Sicily bridge
Arba Sicula leader calls for using
funds for other infrastructure projects
Aug. 3, 2009 -- The president of Arba Sicula, the U.S. based international group that promotes the language and culture of Sicily, has come out against a multi-billion dollar plan by Italian Prime Minister Silvio Berlusconi to build a bridge connecting Sicily to mainland Italy.
Gaetano Cipolla, a Sicilian native and professor of language and literature at St. John's University in New York, announced in an Arba Sicula publication that the money designated for the bridge could better "improve the lives of Sicilians" if it were used for more urgently needed infrastructure projects, such as roads, highways, and train service.
Cipolla's opposition to the bridge is considered significant because he's one of North America's most prominent promoters of Sicily as an important cultural and historic region of Italy and Europe. He and Arba Sicula, which is celebrating its 30th anniversary this year, usually avoid taking positions on controversial political issues in Italy.
The two largest Italian American groups -- the National Italian American Foundation and The Order Sons of Italy in America -- have not taken a public position on the Sicily bridge. The founder and former director of the Sicilian Confederation of North America, Vincenzo Arcobelli, supports the bridge project, saying it's needed to boost economic development in Sicily.
Berlusconi and other supporters of the bridge say it would boost Sicily's economy by making it easier to deliver products and services to and from Sicily. Currently, trains and cars must embark and disembark on ferry boats that cross the Straits of Messina, the body of water that separates Sicily from Reggio di Calabria.
Opponents, including many of Italy's environmental organizations, say the bridge would create severe ecological damage to the Straits and the shore areas of both Sicily and Calabria. Opponents also cite warnings from some engineering experts who say the bridge could be weakened or damaged by high winds, earthquakes, and tidal waves that have struck Messina and Calabria in years past.
Berlusconi and his cabinet ministers in charge of public works projects dispute these claims. They say extensive engineering studies have shown that a well-built bridge could withstand high winds and an earthquake greater in magnitude than any that has hit the region, including the devastating 1908 earthquake and tidal wave that destroyed much of Messina.
If built, the bridge would be the world's longest suspension span and would accommodate both cars and trains.
"Many point out that the money would be better spent in providing better rail service in Sicily; more urgent highways such as the Catania-Syracuse [route] that forces travelers to spend an hour and a half or two for thirty five miles of road; better hospitals and better schools," Cipolla wrote in the current issue of Arba Sicula's bi-annual newsletter, Sicilia Parra.
In addition to the financial and environmental issues associated with the bridge, Cipolla said there's a cultural and human aspect to traveling to and from Sicily by ferry.
"Personally, I just drove from Taormina to Rome, and the most pleasurable part of the trip was crossing the Straits of Messina on a ferry boat; the worst was driving on a single lane behind large trucks at 40 km an hour," he wrote.
"I like the idea of looking at Messina and the coast line of Sicily as the ferry moves toward Calabria or approaching Sicily from Calabria. It is a visual confirmation that you are entering another world, a special place. Surely that would not be the feeling you would get by driving across a bridge."
Italy's minister of infrastructure, Altero Matteoli, and the minister of the economy, Giulio Tremonti, issued a joint statement July 24 saying the bridge project is moving ahead and is scheduled to be completed by 2016. The two said work on the project could begin as soon as this year.
Sicily 'rebellion' prompts
concessions by Berlusconi
Sicilian officials in Berlusconi government
threatened to form new political party
July 31, 2009 -- Italian Prime Minister Silvio Berlusconi has agreed to release nearly $5.7 billion for economic development projects in Sicily following a threat by Sicilian members of his center-right governing coalition to form a new, breakaway "Party of the South."
The rift between the Berlusconi government and prominent politicians in Sicily, where voters overwhelmingly backed Berlusconi's election last year, surfaced when the Sicilians discovered that nearly $6 billion in development funds intended for Sicily were about to be diverted to other programs.
The Sicilians blamed Italian Finance Minister Giulio Tremonti for holding back the funds for Sicily, noting that he is part of the center-right coalition's faction linked to the Northern League. The Northern League is an ultra-conservative party in the country's industrial north that has long denounced Sicily and Southern Italy as a "black hole" for tax money extracted from the north.
"Sicily is our priority," Berlusconi said, in announcing what Italian news commentators described as a "truce" between his People of Freedom Party and the rebellious Sicilian leaders, some of whom serve in the Italian Parliament as cabinet members in Berlusconi's government.
The disagreement with the Sicilians came at a time when Berlusconi appeared to have weathered a scandal in which critics called for his resignation after information surfaced in the press that he allegedly paid for female escorts to attend private parties he held at his lavish home in Sardinia in 2008. Sources familiar with the parties said one of the escorts was 18 years old.
Berlusconi has said nothing improper took place at the parties and has called the allegations "rubbish" invented by his political opponents to undermine his government.
Italian political observers say Berlusconi acted quickly and decisively to quell the revolt of his Sicilian coalition partners because he recognizes the vital role Sicily plays in maintaining the strength the People of Freedom Party.
Berlusconi created the party in November 2007 by arranging for the merger of two existing conservative parties in the period leading up to the Italian national elections of 2008, in which his coalition defeated the newly formed center-left Democratic Party formed by Walter Veltroni.
Sicilians voted overwhelmingly for the Berlusconi-led coalition in the election, but the coalition's majority could slip away if members of Parliament from Sicily and other regions of Southern Italy form their own party and threaten to back a "no confidence" vote for the Berlusconi government. If that happened, the Berlusconi government could fall, possibly leading to another election.
Among those who joined the so-called Sicilian rebellion were Sicilian Governor Raffaele Lombardo, national cabinet Undersecretary Gianfranco Micchiche and national Environment Minister Stefania Prestigiacomo.
At the obvious marching orders of Berlusconi, Tremonti appeared in a news conference in Sicily with Lombardo, Micciche, and Prestigiacomo to announce the national government would release 4.3 billion euros (nearly $5.7 billion) in funds to Sicily for various economic development programs.
Berlusconi said that in addition to releasing those funds, he would begin discussions to identify additional funds for other regions of Southern Italy. He said he also would create a new government agency and a public bank for the development of the "Mezzogiorno," the Italian term used to describe Southern Italy.
Recently released statistics by the government show that the south lags behind the north in a number of key areas, including household income, and exceeds the north in unemployment and the number of people living in poverty.
Fiat announces lay-offs at
Sicily auto plant
Changes come after U.S.
approves Fiat-Chryslers deal
The Italian automaker Fiat announced it plans to end the production of cars at its plant in Termini Imerese on the northern coast of Sicily in 2011, a development that will result in worker lay-offs.

The announcement came shortly after a deal was reached between Fiat and U.S. automaker Chrysler giving Fiat a 20 percent ownership stake in Chrysler.

Workers staged a two-hour strike in June to protest the announcement, despite claims by Fiat chief executive Sergio Marchionne that the company was doing all it could to preserve jobs in the midst of a worldwide crisis in the auto industry caused by an international economic downturn.
The Italian government responded by making $418 million available to help areas surrounding Fiat's plants in Termini Imerese and the City of Pomigliano near Naples, where plant layoffs were also expected.
Marchionne called on the government and unions to support its efforts to maintain jobs while it reduced the production of cars due to sluggish demand, according to Reuters news service.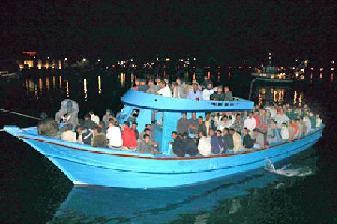 Undocumented immigrants from Africa arriving last year in Lampedus, the Sicilian island where thousands of illegal immigrants have arrived in recent years.
Illegal immigrant arrivals in
Sicily drop dramatically
Italy-Libya 'repatriation'
agreement cited as key factor
July 11, 2009 -- The number of illegal immigrants arriving in Sicily by boat has fallen by 54 percent in the first half of 2009 compared to the same period in 2008, according to Frontex, the European Union's border agency.
A Frontex official told the Italian news agency ANSA that the drop in illegal immigrant arrivals in both Sicily and Sardinia was mostly due to greater cooperation between Libya and Italy in efforts to intercept boats carrying the immigrants to Southern Italian shores.
Italian authorities have said small boats operated by human traffickers who belong to organized crime groups have transported thousands of immigrants mostly from sub-Saharan African nations over the past decade to Sicily. Most of the boats have disembarked from Libya, with Libyan authorities in the past spurning Italy's requests that they take steps to stop the departures, Italian officials have said.
Many of the immigrants have drowned at sea after the small boats capsized in the Mediteranean, despite efforts by the Italian navy and Italian fishing vessels to rescue them.
In past years, Italy allowed the immigrants to remain in resettlement camps in various locations throughout the country while determining whether they were eligible for legal immigration status in Italy or other European countries. But Italian Prime Minster Silvio Berlusconi, who called for a more restrictive stand on immigration in his election campaign last year, has pushed through a policy of "repatriation." The policy calls for sending most illegal immigrants -- referred to in the Italian press as "clandestini -- back to their country of origin.
After months of negotiations, the Berlusconi government and Libya reached an agreement this spring in which Libya was to intercept the immigrant boats in Libyan waters and hold the immigrants in Libya until their country of origin can be determined. The agreement calls for Italy to intercept immigrant boats in Italian waters and return the illegal immigrants to Libya, which, in turn, would take steps to repatriate them to their home countries.
Human rights organizations in Italy and other European nation's have denounced the repatriation policy, saying it denies the immigrants procedural rights under international agreements to determine whether they are seeking asylum from political persecution and possible death if forced to return to their country of origin.
Many of the immigrants arriving in Sicily are believed to be from war-turn countries like Somalia and Sudan, where they could face death upon their return, human rights groups have said.
Arias-Fernandez told ANSA July 11 that the number of illegal immigrants arriving by boat to Sicily, mostly on the Sicilian island of Lampedusa, dropped from 14,806 last year to 6,760 this year for the period of Jan. 1 to July 5.
"From May 15 on, that is from when the agreements [with Libya] became effective, our agents noticed even more of a decrease," he told ANSA. "The decrease in this last month and a half may have even reached 70 percent," he said.
"Based on our statistics, we are able to say that the agreements have had a positive impact," ANSA quoted him as saying. "On the humanitarian level, fewer human lives have been put at risk due to fewer departures. But our agency does not have the ability to confirm if the right to request asylum as well as other human rights are being respected in Libya."
Human rights groups say Libya is holding the returned immigrants in detention camps and Libyan authorities are not providing them access to information and assistance about seeking asylum.
A spokesperson for the Libyan Embassy in Washington could not be immediately reached for comment.
Leaders of the historic town of Salemi in Western Sicily are selling earthquake damaged houses for under $2 to buyers who agree to renovate them.
Buy a house in
Sicily for $1.35!
Offer by mayor of Salemi
creates sensation in Europe
May 10, 2009 -- The mayor of the Sicilian town of Salemi has captured the attention of prospective home buyers and investors in Europe by offering to sell as many as 3,700 houses and villas in the hillside town's historic center for just one Euro, which comes to about $1.35.
Mayor Vittorio Sgarbi, an art historian and Italy's former deputy cultural minister, has been upfront about a few conditions he has placed on his eye-catching deal. Buyers have two years to restore the centuries old homes, which were abandoned 40 years ago after sustaining structural damage from a 1968 earthquake.
Buyers must also use local builders, architects, decorators, and other workers in an effort to boost the local economy. And the restoration work must meet standards set by the town so that the renovated homes respect the original character and architecture of Salemi.
Sgarbi's offer has nevertheless drawn interest from prospective buyers in Europe, Asia, Australia, and the United States, to say nothing of Italy itself, according to the Italian newspaper Corriere Della Sera.
With a population of about 11,800, the town for years has struggled to recover from the devastating 1968 earthquake that destroyed or damaged more than half of its homes and other buildings, including a 12th Century castle.
Salemi is in Trapani Province about 45 miles southwest of Palermo. Located on a hill overlooking surrounding farms and vineyards, many the houses being offered for sale in Sgarbi's revitalization program provide great views of a tranquil countryside, according to town officials.
"We want to try and attract people back to the town or at least make some form of donation to try and help save an architectural environment that we are rapidly losing," Olivero Toscani, the town's counselor for creativity and human rights, told the newspaper.
Toscani established an international reputation as a fashion photographer for the Italian clothing company Benetton, which used Toscani's controversial photos of frail AIDS patients.
Mayor Vittorio Sgarbi
Sgarbi, 56, himself a highly controversial figure and frequent guest on television talk shows, attained celebrity status in Italy before becoming Salemi's mayor. He hired Toscani and other unconventional advisors from the fields of art and entertainment to help him transform Salemi into what he envisions as a cultural and artistic center in Sicily.
In poking fun at Italy's reputation for overly bureaucratic government agencies, Sgarbi created the positions of "Advisor for Nothing" and "Advisor for Hands in Pasta," which is understood among Italians to mean someone who has his hands "in every pie."
He has homes in Milan and Rome and has never been a resident of Salemi, although he said he admires its historic architecture and art work dating back to the 9th century when Arabs founded the town.
It was not until just a few days before the town's June 2008 election that Sgarbi announced his candidacy for mayor. At the urging of Toscani, he consulted a number of Salemi's political leaders. They quickly agreed that his reputation as a mover and shaker in Italian politics could help draw national attention to the town's needs as well as its picturesque setting.
Sgarbi's victory in the election amazed many political observers. A Los Angeles Times correspondent who recently visited Salemi wrote in an article that the sudden emergence of Sgarbi and his new mayoral advisors as the town's new leaders was "comparable to a bunch of celebrities from New York taking over a town in South Texas."
Since taking office last year, Sgarbi has been credited with pulling off a major coup when he and his supporters persuaded the owner of a popular video rental store in New York's East Village to donate about 55,000 VHS and DVD movies for a planned video arts center set to open in Salemi. The center is also being proposed as the site of an international film festival.
The decision by Korean immigrant Yongman Kim of Kim's Video to donate his collection of eclectic movies to an obscure town in Sicily stunned his loyal customers, who wanted the collection to remain in New York. Kim, who was closing his video business, said he selected Salemi after the town provided the best proposal in a competitive process open to anyone willing to develop a plan for making the movies available to the public, according to the New York Times.
The Salemi proposal for obtaining the collection included providing a 17th century Jesuit college building now used as a museum as the location where many of the films would be shown on a projection screen for public viewing, the Times reported. The newspaper said the University of Palermo and a translation company was to be retained to add subtitles in several languages for many of the films.
Sgarbi said the acquisition of the movies was part of his plan to convert the town into a destination for VIP visitors and vacationers similar to Pantelleria, a tiny island off Sicily's southern coast that serves as an upscale vacation spot that regularly attracts celebrities like Madonna and fashion designer Giorgio Armani.
The current configuration of the town's historic center was built during the Arab conquest of Sicily in the 9th century and includes narrow and twisting streets and alleys characteristic of the Arab period.
Salemi has the distinction of having served briefly as the first capital of Italy when Giuseppe Garibaldi set up camp there in May 1860 after invading Sicily in his quest to create an independent and unified Italy.
The cost of renovating the homes being offered at one euro is estimated to be between $165,000 for smaller houses to as much as $600,000 for mansion-size villas.
More information about the home purchase application process can be obtained through Mayor Sgarbi's website, www.vittoriosgarbi.it.




Gela Mayor Rosario Crocetta
Sicilian mayor saved from
Mafia assassination plot
Rosario Crocetta of Gela is
targeted for anti-Mafia campaign
April 25 -- Italian police foiled a plot by Mafia bosses to kill the mayor of the Sicilian City of Gela, Rosario Crocetta, who won election in 2003 as an outspoken advocate for fighting organized crime.
Police announced April 24 that they arrested two suspects in the plot who had links to a Mafia crime family. The suspects allegedly had been involved in extortion schemes targeting businesses in Sicily and Italy's northern region of Lombardy, police said.
The Italian news service ANSA reported that police believe the plot to kill Crocetta was in an advanced stage and that an attempt on the mayor's life because of his antii-Mafia work was "imminent."
Crocetta, 58, is a former Communist who is now a prominent member of Italy's center-left Democratic Party. He also holds the status of being Sicily's and Italy's first openly gay mayor.
His long record as a champion of government reform and his role as a leader among Sicily's anti-Mafia activists attracted strong support among voters in a region that usually elects candidates from the center-right parties.
Anti-Mafia investigators charged Maurizio La Rosa and Maurizio Trubia with Mafia association, extortion against Sicily based businesses, and membership in an armed association in connection with the alleged plot to kill Crocetta. The investigators described La Rosa as the "mastermind" behind the plot.
"I have been living under a police escort for six years," Crocetta told the Turkish news service AKI. "The Mafia death threats are not a novelty for me. Paradoxically, I am angry now, not afraid," AKI quoted him as saying.
Crocetta, who is fluent in Arabic, French, and English, began his career in the field of computer science. He served as Gela's minister of culture from 1996 to 1998 and was elected to the Gela city council in 1998. He later served as Sicily's cultural liaison to Middle Eastern countries, including Tunisia, Yemen, and Lebanon, before winning election as mayor.
Gela, which has a population of about 80,000, is located on Sicily's south coast.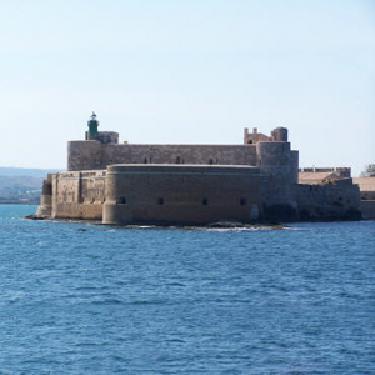 The Casle of Maniace, located on Ortygia Island, a picturesque section of Syracuse, Sicily, was the site of the April 22-24 G8 Environment Ministers Meeting.
Sicily hosts G8 environment
ministers meeting
EPA chief leads U.S.
delegation in Syracuse
April 24 -- Environment ministers from the world's eight largest industrialized countries as well as several developing nations met in Syracuse, Sicily April 22-24, where issues of biodiversity and climate change were at the top of their agenda.
U.S. Environmental Protection Agency Administrator Lisa P. Jackson led the U.S. delegation to the gathering, which was officially known as the Group of Eight Environment Ministers Meeting. Jackson arrived in Syracuse on April 23 during the second day of the meeting, according to an EPA spokesperson.
A statement released by G8 officials said the summit was being held at the Castle of Maniace, an 11th Century structure located at the tip of a picturesque promontory in Syracuse's historic Ortigia section.
"The Syracuse meeting's mission is to send out an important political message on biodiversity and to ease dialogue on climate change," the G8 statement says.
"The meeting will provide an opportunity for an international exchange of views on issues including the balanced use of natural resources and the investments that might be made in new technologies," the statement says.
The Catania based newspaper La Sicilia reported that officials with the Sicilian regional government and a car rental company organized an environment-friendly car sharing arrangement to facilitate travel for meeting participants. The arrangement was to help reduce traffic congestion and gasoline consumption in transporting participants between Sicily's major airports in Palermo and Catania and the Syracuse meeting site.
The G8 member countries participating in the meeting were Canada, France, Germany, Italy, Japan, Russia, the United Kingdom, and the United States. Other countries invited to participate in the Syracuse meeting included China, India, Brazil, Mexico, Indonesia, South Africa, Australia, South Korea, Egypt, Denmark, and the Czech Republic.
Jackson of the U.S. EPA was expected to make a presentation on President Barack Obama's recently announced U.S. commitment to more aggressively address global warming by reducing greenhouse gas emissions to 1990 levels by the year 2020.




Sicilian Film Festival founder Emanuele Viscuso
Sicilian Film Festival
held in Miami Beach
Palermo native hosts fourth annual
display of 'Sicilian cinematography'
April 13 -- The fourth annual Sicilian Film Festival, which opened Easter Sunday in Miami Beach, included six days of feature films and documentaries created, directed or promoted by Sicilians involved in the arts or motion picture industry.
The 30 films listed on the festival's program were shown April 13-19 at the Miami Beach Cinematheque at 512 Espanola Way, Miami Beach.
Sicilian sculptor, musician, furniture designer, and cultural promoter Emanuele Viscuso created the Sicilian Film Festival in Miami in 2006 as a showcase for what he has called the genre of Sicilian cinematography, according to literature about the festival published on its website. Viscuso, 56, is a native of Palermo who has lived in Miami Beach since 2000.
Viscuso hosted the festival's closing party and fundraising dinner at his Miami Beach home on April 19th.
"This year Franco Nero has decided to return to the Sicilian Film Festival, where his film Diceria dell'Untore, taken from the novel Bufalino, will be shown," an advance statement released by the festival says. "Nero shot his film with his wife Vanessa Redgrave," the statement says.
"As various critics have reported, the Sicilian Film Festival is worthy of the top spotlight in all the world regarding the existence of a real and true 'Sicilian Cinema' and international recognition," the statement says.
The filmmakers or producers of a number of the films shown at the festival spoke during sessions before or after the showings. Among those listed as speakers were Franco Nero and Sicilian filmmaker Augusto Allegra.
The cost of admission for most of the films was listed at $10.
A full schedule and description of the films at the festival can be viewed on the festival's website, www.sicilianfilmfestival.com

Sicilian Regional President Raffaele Lombardo
Sicily morns L'Aquila
earthquake victims
Sicilian president spends Easter at camps
for families displaced by quake
April 12 -- Mindful of their own history of earthquake devastation, residents of Sicily joined all Italians this week in morning the nearly 300 people who died in the destruction caused by the April 6 earthquake that hit the City of A'quila and nearby cities and towns in Italy's mountainous Abruzzo region.
Raffaele Lombardo, president of the Sicilian regional government, traveled to Tornimparte, an earthquake damaged city near L'Aquila, where he visited Sicilian civil protection workers who participated in emergency rescue efforts. Civil protection crews from all over Italy, including Sicily, rushed to the L'Aquila area to help save the lives of residents trapped beneath the rubble of fallen buildings.
Lombardo was scheduled to join workers from Sicily's Department of Civil Protection along with L'Aquila area earthquake survivors for the celebration of an Easter Mass and a dinner in Tornimparte. Civil authorities arranged the dinner for several thousand people staying in camps set up for those displaced by the earthquake.
Similar to other regions in Italy, newspapers and television stations in Sicily provided extensive coverage of the developments following the L'Aquila quake, including emotional scenes of an April 10 mass funeral for those who died in the quake.
The Italian news agency ANSA reported that authorities lined up the coffins of 205 of the victims in four rows in a piazza in L'Aquila. ANSA reported that coffins of at least 20 children who died in the devastation, including a five-month-old baby named Antonio, were placed on top of the coffins of their parents or family members.
Among those attending the funeral were Italian Prime Minister Silvio Berlusconi and Italy's president, Giorgio Napolitano. Pope Benedict XVI's private secretary, Fr. George Gaenswin, and a large number of bishops and priests from the Abruzzo region participated in the funeral mass.
Members of the civic activist group Dialogos from Corleone, Sicily traveled to Naples for the March 22 Day of Remembrance. Photo courtesy of Dialogos.
Anti-Mafia march in Naples
draws more than 100,000
Group from Corleone 'proud' to join
Sicilian contingent in annual protest
March 22 -- More than 100,000 people from all regions of Italy, including Sicily, marched through the streets of Naples on Saturday in a vocal stand against the mafia and other organized crime syndicates in Southern Italy.
A group of about 80 mostly young people from Corleone, the town in Western Sicily known in the past as a Mafia stronghold, were part of a large Sicilian contingent in the march, saying they were proud to represent a community they believe has broken free from crime bosses made famous by the Hollywood film The Godfather.
The march and a rally, held near Naples' picturesque coastline, were part of a series of events billed by organizers as the 14th annual Day of Remembrance, which commemorates the victims of organized crime.
Among those participating in the march were widows, children and grandchildren of some of the more than 900 law enforcement officials and civic activists killed since the 1970s by Italy's main organized crime groups -- the Mafia, or Cosa Nostra, in Sicily; the Camora of Naples; the 'Ndrangheta of Calabria, and the Sacra Corona Unita of Puglia.
.
"A day like today is meaningful only if we keep fighting the other 364 days of the year," Reuters news service quoted Father Luigi Ciotti as saying.
Ciotti is president of Libera (Free), an association of civic groups, including anti-mafia groups, that organizes the annual Day of Remembrance.

Libera has worked with civic activists and government leaders in Corleone and other parts of Sicily to help manage farms and other lands and buildings that Italian authorities confiscated from the Mafia in recent years as part of Italy's stepped-up crackdown against organized crime.
Leaders of the Day of Remembrance said the turnout was closer to 150,000. They noted that participants came from as many as 30 countries as well as from cities and towns throughout Italy. Police put the crowd estimate at about 100,000.
Among the speakers at the rally was Italian journalist Roberto Saviano, author of the best-selling book Gomorra, an expose on the pervasive role the Camora plays in everyday life in Naples. Saviano's book recently became a highly acclaimed film, and the spin-off of the book and film has resulted in his receiving death threats. Authorities in Naples are providing Saviano, 29, with 24-hour police protection.
Also participating in the march and rally was Rita Borsellino, sister of Judge Paolo Borsellino, an anti-mafia magistrate who was slain in July 1992 in Palermo. Paolo Borsellino's murder came two months after another prominent Sicilian magistrate, Giovanni Falcone, was killed by a bomb attack near the Palermo airport.
The murders by the Mafia of Borsellino and Falcone triggered expressions of outrage throughout Sicily and Italy and prompted Italian authorities to launch an unprecedented crackdown on organized crime. Although experts say the effort by authorities to fight the Mafia in Sicily has had its ups and downs, most agree that initiatives begun in 1992 have resulted in significant progress.
Sicilian law enforcement officials and reformist groups point to Corleone as an example of some of the dramatic changes taking place related to the Mafia. Corleone, with a population of about 12,000, is located in Palermo Province in Sicily's interior, about half way between Palermo and the southern coastal city of Agrigento.
Known since the 1960s as home to some of Sicily's most powerful Mafia bosses, the town became a symbol of Mafia domination with the portrayal of fictional Mafia boss Vito Corleone in Mario Puzo's best-selling novel The Godfather and the subsequent movie trilogy of the Puzo novel.
Since the early 2000s, anti-mafia laws enacted by the Italian government made it possible for the government to confiscate Mafia owned property, including large farms and villas. In Corleone and its surrounding countryside, authorities turned over confiscated lands to newly formed cooperatives set up by Corleone citizens and reformist groups.
One of the groups, Dialogos Corleone, is working on a number of projects to promote the economic development of the town.
Members of Dialogos Corleone, including a sizable number of students and young civic activists, were part of the Sicilian contingent that traveled to Naples to participate in the Day of Remembrance march and rally.

Vincenzo D'Agostino, the father of a police officer killed by the Mafia, pointed to the young people working through groups like Dialogos Corleone when he spoke at the Day of Remembrance rally on March 21.
"Today is a day of celebration because we remember our dead with all these young people gathered here today," Reuters quoted him as saying. "They are the future of Italy."

Rita Borsellino, while acknowledging the progress in the fight against the Mafia, told the Naples rally the battle was a long way from being over.
"I am angry and less optimistic than 17 years ago, when my brother was slain," BBC News quoted her as saying. "The Mafia have changed, they have become more dangerous, better inserted into the web of power," BBC quoted her as saying.
Sicily facing 'dramatic'
shortage of prosecutors
Lack of applicants could
jeopardize fight against Mafia
March 13 -- An association representing state prosecutors in Italy warned government officials Friday that Sicily faces an alarming shortage of prosecutors that could seriously jeopardize its fight against the Mafia.
The National Judicial Association, which represents most of Italy's 9,000 magistrates, said that an announcement of 55 job openings for prosecutors in Sicily resulted in just four candidates applying for the prosecutorial positions. The association called the situation "a very serious emergency."
Under the Italian judicial system, magistrates serve as prosecutors.
"The situation today appears dramatic: there are many judicial offices which risk being paralyzed or destined for closure," the association stated in an open letter to Italy's Superior Judicial Council, according to the Italian newspaper Corriere della Sera.
The newspaper reported that each of the four applicants responding to the announcement of 55 job openings were already working in Sicilain law enforcement related jobs.
Italian authorities have pointed to a large number of arrests in recent years of high-level Mafia leaders in Sicily, including the arrest of "boss of bosses" Bernard Provenzano in 2006. One year later, authorities arrested Salvatore Lo Piccolo, the person believed to have been designated by mob leaders as Provenzano's successor.
According to the National Judicial Association, qualified applicants most likely were reluctant to apply for the prosecutorial positions due to low pay and poor working conditions as well as the rural location of most prosecutors' offices in Sicily. Threats of retaliation and violence, including death threats, also play a role in deterring people from applying for the prosecutors' jobs, the association said.
The assassination of internationally recognized anti-Mafia judges Giovanni Falcone and Paolo Borsellino in bomb attacks in Sicily in 1992 triggered expressions of outrage among Sicilians and Italians and prompted the government to step up its anti-Mafia campaign in an unprecedented way. A memorial marker commemorating the life of Falcone has been installed at the FBI's national training academy in Quantico, Va.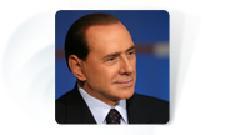 Silvio Berlusconi
Berlusconi: Sicily bridge part
of Italy's economic stimulus
Italian cabinet approves bridge in
large public works package
March 9, 2009 -- The Italian government gave its approval on March 6 to fund construction of the world's largest suspension bridge linking Sicily to mainland Italy.

Italian Prime Minister Silvio Berlusconi said the project is a major component of a 17.8 billion euro ($22.5 billion) public works stimulus program aimed at helping Italy recover from a world-wide recession.
Officials said about 49 percent of the total funds allocated to the program, which were to come from government and private sector sources, would go toward the bridge and other infrastructure projects in southern Italy.
Funds from the program are also slated to go to public transit projects in Palermo and Catania, a new subway rail line in Rome, and infrastructure development linked to the planned 2015 World's Fair in Milan, officials said.
Berlusconi said the massive public works program was part of his government's plan to create jobs to help lift Italy out of its worse recession in more than 25 years. He said the economic stimulus package was also intended to reassure the Italian people.
"Our greatest fear is that people will change their lifestyles just because they're afraid, and thus worsen the crisis," the International Herald Tribune quoted Berlusconi as saying after a March 6 cabinet meeting. "Some in the media continue to paint this crisis as a tragedy, which is an exaggeration," the paper quoted him as saying.
Other projects funded in the public works program include new highway construction in southern Italy to help funnel traffic into the Sicily bridge and the ongoing flood control project in Venice that includes building a movable, underwater system of dykes.
Altero Matteoli, Italy's public works minister, said work on the Sicily bridge could begin late this year, with the goal of completing it in 2016.
Critics of the bridge say high winds and seismic activity on both sides of the Strait of Messina, where the two-mile-long bridge will cross, could create safety issues. Critics have also said organized crime groups in Sicily and Calabria, including the Sicilian Mafia, could siphon off larges sums of money from the project through construction companies believed to be controlled by the crime groups.
Matteoli has said the bridge has been designed to withstand earthquakes and high winds and that government authorities will take steps to safeguard against corruption in the construction contracting process.
An engineers' rendering of the proposed suspension bridge connecting Sicily and mainland Ialy.
No 'going back' on Sicily-mainland bridge
World's largest suspension
span to cost $7.6 billion


March 2, 2009 -- Italy's public works minister Altero Matteoli says the Italian government is moving ahead with plans to build the world's largest suspension bridge connecting Sicily to mainland Italy and that work on the project could begin this year.
Italian Prime Minister Silvio Berlusconi indicated he would resume plans to build the controversial bridge after his political coalition won election to office last April. But opponents of the bridge, citing a price tag of 6 billion Euros ($7.6 billion) and potential problems due to its location within an earthquake zone, promised to do all they could to block the project.
"It's true that it costs six billion euros but this is the project and we're not going back," Matteoli said in a Feb. 25 radio interview.
Berlusconi and supporters of the bridge argue that the project will create thousands of jobs and greatly improve Sicily's economy by attracting more tourists and making it easier to ship materials to and from the island.
Currently, cars, trucks, and trains must rely on ferry boats, which take far longer to cross the Strait of Messina separating Sicily and Calabria, supporters point out.
Engineers retained by the government during Berlusconi's earlier term as prime minister between 2001-2006 developed a design for a two-and-a-half mile long suspension bridge, the longest in the world. The design calls for six traffic lanes, with two driving lanes and one emergency service lane in each direction. The bridge is also designed to accommodate two railway tracks and two pedestrian lanes.
Former Prime Minister Romano Prodi, whose center-left coalition defeated Berlusconi's center right grouping in Italy's 2006 elections, put a halt to the project, calling it "the most useless and harmful plan of the past 100 years."
Prodi and other opponents cited concerns raised by some engineers that a suspension bridge more than two miles long could be damaged by seismic activity in a region devastated by an earthquake that struck Messina in 1908. Other critics have pointed to experts who claim that high winds might damage the bridge's huge towers supporting its cables.
Berlusconi and his center-right coalition returned to office last year after winning the April 2008 national elections, and Berlusconi quickly announced plans to reinstate the Sicily bridge project.

Berlusconi and Matteoli have said the engineers who developed the current design for the bridge have taken into account all possible contingencies, including earthquakes and high winds. The structure is said to be able to withstand without any damage winds of up to 134 miles per hour and an earthquake of the magnitude of 7.1 on the Richter scale, which is of a greater magnitude than the 1908 earthquake that destroyed Messina.
Matteoli said in his Feb. 25 radio interview that his main concern is the need to improve roads and rail lines leading into the bridge in Sicily and Calabria.
"The bridge will oblige us to improve railway and motorway infrastructure as well as the ports," he said in the interview. "It's an enormous amount of work."
Among those supporting the bridge is Vincenzo Arcobelli, founder of the North American Sicilian Confederation, a group that promotes the interests of Sicilians living in the United States and Canada. Arcobelli has said the bridge is needed to boost Sicily's economic development, including its tourist industry, which he said is hurt by the inability of tourists to drive to and from Sicily.

The idea of building a bridge across the Strait of Messina dates back to the time of the Roman empire and later during the era of King Roger II, Sicily's Norman ruler in the 1200s.
This elaborately crafted float appeared in the parade during one of the past carnivals in Acireale, Sicily. The image was captured by Italian American photographer Joe Zarba, whose photos of Sicily and Italy can be viewed at www.joezarba.com
Carnival in Sicily
Sicilian cities, towns revel
in 'Fat Tuesday' celebrations
Feb. 25, 2009 -- The Sicilian towns of Acireale, Misterbianco, and Sciacca -- known for rivaling Venice for some of Italy's most elaborate and fun-filled carnival celebrations -- held their concluding ceremonies on Feb. 24 following two weeks of carnival related events.

According to reports from Acireale, attendance was down compared to past years during the week-day events leading up to the Feb. 24 concluding festivities, most likely because of the economic down-turn hitting Italy and all of Europe.

Acireale, located on Sicily's east coast about ten miles north of Catania, boasts of hosting the island's "most beautiful" carnival. Its trademark feature includes parades with giant, intricately crafted floats consisting of depictions of human and fictional characters made of paper mache.
Referred to as allegorical floats, the displays often depict politicians and celebrities, including Italy's Prime Minister Silvio Berlusconi, as well as mythical figures like Neptune, the god of the sea.
Other floats depict scenes as well as people, but are made with tens of thousands of flowers. Like the paper machete floats, the flower-decorated floats are made by highly skilled artisans who compete with each other in contests for the best and most creative floats in the Acireale carnival.
"It's different from Venice in that it's more family oriented," said Giovanni Gallo, a professor at the University of Catania.
"Children play an active role in the events," he said.
In addition to the floats and parades, the Acireale carnival includes almost daily entertainment from musical bands and singers, many of whom are big name performers known throughout Italy. Thousands of spectators line the streets to watch the parades, and many of them wear colorful masks. A past tradition of spectators throwing eggs and vegetables at one another has mostly been replaced by the tossing of paper confetti and the spraying of foam, according to literature released by carnival organizers.
The carnivals hosted by the towns of Misterbianco and Sciacca -- as well as those in other towns and cities in Sicily -- are smaller than the one in Acireale but officials who organize them claim their parades and floats compete with the ones in Acireale for artistic design and creativity.
Misterbianco is about five miles west of Catania. Its unusual name is said to come from a Benedictine monastery, Monastero Bianco. Sciacca is located on Sicily's southwestern coast.
More information about the three main carnivals in Sicily, including photos of the events, can be obtained by visiting these sites:
http://www.carnevaleacireale.com/en/
http://www.carnevaledimisterbianco.it/storia/oggi/Oggi_inglese.aspx
http://www.fotoartearchitettura.it/Multimedia/sicily/events/20.html
http://www.joezarba.com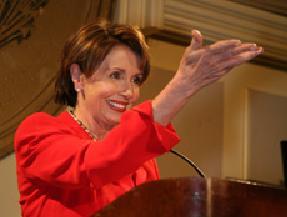 Nancy Pelosi
Pelosi mentions Sicilian
roots in trip to Italy
Speaker of U.S. House given
grandparents' birth certificates
Feb. 20, 2009 -- U.S. Speaker of the House Nancy Pelosi (D-Calif.) talked about her family's ties to Italy, including Sicily, in an address before Italy's Chamber of Deputies in Rome on Feb. 16.
"My family's background is as diverse as the map of Italy, with grandparents and great-grandparents born in Abruzzi, Venice, Genoa, Campobasso and Sicily," Pelosi said.
"In the neighborhood in Baltimore I grew up in, all of these regions were represented and many more," she said. "The same is true of the city I proudly represent today in Congress -- San Francisco."
Pelosi and a delegation of six other U.S. House members spent six days in Italy meeting with Italian government officials, including Prime Minister Silvio Berlusconi, and visiting American troops in U.S. military bases in Florence and Naples. She met with Pope Benedict XVI in the Vatican on Feb. 18.
Gianfranco Fini, president of the Chamber of Deputies, surprised Pelosi when he presented her with copies of her grandparents' birth certificates as a gift.
"We know how proud you are of your Italian roots," the Italian news agency ANSA quoted Fini as saying.
"For more than six decades, the United States and Italy have worked together successfully to advance security and peace," Pelosi said in her address to the Chamber of Deputies. "Our bond is uniquely strong because of the vital role daughters and sons of Italy have played in the United States from its discovery to today," she said.
Sicilian workers at center of
British storm over foreign labor
Sicily president
threatens retaliation
Feb. 6, 2009 -- Several thousand workers at oil refineries, electric power plants, and other energy producing facilities staged wildcat strikes throughout the United Kingdom during the first week of February to protest the use of Italian workers for a construction project in England. Nearly all of the Italian workers are from Sicily.
An agreement to end the illegal strikes was reached on Feb. 5, but not before the British workers defied calls to return to work by Prime Minister Gordon Brown. Union leaders said they were fighting what appeared to be growing efforts to replace British employees with foreign laborers at a time of high unemployment in the U.K.
The dispute stems from a decision by the giant multi-national energy company Total, based in Paris, to retain an Italian construction and engineering firm in Sicily called IREM to complete a $280 million construction project at Total's oil refinery in Lincolnshire County, on England's northeastern coast.
IREM, which won the construction contract through competitive bidding, invoked its right under European Union rules to bring in its own workers from Italy and Portugal. IREM is headquartered in Syracuse, Sicily and most of its employees working on the Total contract are from Sicily. IREM officials said British workers have been employed in other projects in Italy under longstanding European agreements that allow citizens from any European Union country to work in all E.U. countries.
But the striking British workers accused Total of violating the spirit of the E.U. rules by not giving them a chance to apply for some of the jobs associated with the Lindsey refinery project in Lincolnshire.
Reports of British workers taunting and shouting at the Sicilian workers angered Sicily's regional president, Raffaele Lombardo, who told Italian newspapers the hostile treatment of the visiting workers appeared to be turning into an ugly form xenophobia against Sicilians.
The Sicilian and Portuguese workers are living on a barge docked in a harbor near the construction site that has been converted by IREM into a dormitory. Many of the workers told Italian authorities they feared for their safety when they came on shore after getting off work.
According to the Financial Times, a British newspaper, Lombardo threatened to retaliate against British interests by ending ongoing negotiations with Britain's Shell oil company over Shell's plans to build a natural gas plant in Sicily.
"Since Shell is in a consortium with Erg, Italy's largest independent refiner, Mr. Lombardo's threats would seem to be mostly rhetoric," Financial Times reported.
Britain's ambassador to Italy, Edward Chapin, assured the Italian government on Feb. 2 that Italian workers in the U.K. are not at risk of discrimination or animosity, according to the Italian news agency ANSA.
Union officials in Britain said the expressions of anger by the British workers are not directed at the Sicilians and Italians working on the refinery project in Lincolnshire. They said the animosity was instead aimed at what they called unfair corporate decisions made by Total to seek out foreign workers before giving British workers a chance to compete for the jobs.

Arba Sicula President Gaetano Cipolla
Sicily group vows to make St. Johns
University 'center for Sicilian culture' in U.S.
'Jewish presence in Sicily' is kick-off
topic of Arba Sicula lecture series
Jan. 30, 2009 -- Arba Sicula, an international organization based in New York City that promotes the language and culture of Sicily, hopes to make St. Johns University the focal point for Sicilian culture in the United States, according to Gaetano Cipolla, a St. Johns professor of Italian who heads Arba Sicula.
In the latest edition of the group's bi-annual newsletter, Sicilia Parra, the group announced the resumption of a lecture series on Sicily that Cipolla initiated in 2006 as a program of Casa Sicilia, a Manhattan based organization sponsored by the Sicilian regional government in Italy. Casa Sicilia ceased operating in late 2007 after losing its funding.
"Unfortunately, for reasons beyond our control we had to suspend those lectures that attracted a substantial crowd of interested people to the Empire State Building," where Casa Sicilia was located, Sicilia Para reports. "So we are happy to announce that on Feb. 24, Professor Gaetano Cipolla will launch a new series with a lecture on 'The Jewish Presence in Sicily,'" the newsletter says.
Sicilia Para says a full list of "conferences and presentations" on Sicily related subjects will be announced soon for the fall semester of 2009 at St. Johns.
"But one thing is clear from the start: Arba Sicula hopes to make St. John's University the Center for Sicilian Culture in this country," the newsletter says. "While we can claim such a title already on the basis of all the cultural programs we have offered in the past 25 years, we think it is time to offer our membership some additional food for thought by offering programs that entertain and educate at the same time."
The February 24 lecture on the Jewish presence in Sicily, which will be delivered by Cipolla, will be followed by a March 20 presentation by Sicilian American poet Nino Provenzano, who will read from his new book, Nino Provanzo's Poetry.
The third lecture in the series, "Do Sicilians Have a Sense of Humor?" will be delivered by Cipolla.
Cipolla is an internationally recognized expert on the Sicilian language and culture. He has taught courses on the language, civilization, and literature of Italy and has specialized in the study and preservation of the Sicilian language, which he has argued should be treated as a full language rather than a dialect.
He has translated numerous literary works, including poetry and plays, from Sicilian into English, and has taught courses on the skills of language translation. In his role as president of Arba Sicula, he has served as editor of Arba Sicula: Journal of Sicilian Folklore and Literature, a bi-annual academic publication. The journal is written in English and Sicilian.

The group has also announced that its 15th annual tour of Sicily will be held June 1-13. A preliminary itinerary is available by contacting Cipolla by E-mail at cipollag@stjohns.edu.
Arba Sicula's lecture series is free and open to the public but a reservation is recommended. All lectures are to be held at Bent Hall, Room 277 on the St. John's campus at 8000 Utopia Parkway, Queens, N.Y. Reservations can be made by calling 778-990-5203.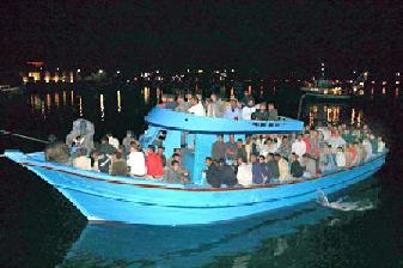 A U.N. photo shows refugees from Africa arriving in Lampedusa on a boat beleived to have departed from Libya.
Sicily refugee center
raises concern of U.N. agency
Migrants from Africa continue
to arrive by boat on Lampedusa
Jan. 22, 2009 --The Office of the United Nation's High Commissioner for Refugees has called on the Italian government to take immediate steps to address severe overcrowding at a migrant center on Sicily's outer island of Lampedusa.
A spokesperson for the U.N. refugee agency spoke out about the problem on Jan. 21, after another boatload of illegal immigrants landed on the island, bringing the number of people being held at the migrant center to 1,850. The facility has only 850 beds, and officials said most of the occupants are sleeping in tents.
''The overcrowding results above all in the standards of assistance for immigrants being lowered,'' UNHCR regional spokesperson Laura Boldrini told the Italian news agency ANSA.
''But there is a risk that the situation could deteriorate further, putting at risk the safety of the migrants and asylum seekers, humanitarian workers, doctors and people in charge at the center,'' Boldrini told ANSA.
Lampedusa is one of three tiny islands belonging to Sicily that are located between Sicily's southern coast and the coast of North Africa. The picturesque Lampedusa is a popular tourist destination.
The longstanding problem of overcrowding at the migrant center mushroomed last month after Italy's Interior Minister Roberto Maroni put in place a new policy that requires migrants to remain on Lampedusa until arrangements can be made to repatriate them to their country of origin.
Critics of the policy, including Lampedusa Mayor Bernardino De Rubeis, point out that in many cases, the country of origin can't immediately be determined. They also note that Italy is bound by international agreements on refugees, which call for providing legal recourse for migrants seeking asylum.
Before the new policy took effect, Italian authorities transferred the migrants arriving on Lampedusa to other facilities on Sicily proper or on the Italian mainland.
''Until now we've been able to cope with the emergency by inventing temporary solutions like the use of tents, but if there are any more landings we won't know where to put them,'' the Lampedusa migrant center's director, Cono Galipo, told ANSA.
Boldrini said the U.N. refugee agency is aware of protests against the migrants by Lampedusa's residents, who are bearing the brunt of the refugee problem.
''Their concerns are understandable, but migrants and asylum seekers cannot be made the scapegoats in this situation,'' she said.
According to lnformation released by the U.N. refugee agency, more than 36,000 illegal immigrants arrived on the shores of Italy and its islands in 2008. The agency says most of the migrants were from Somalia and Eritrea and about 75 percent of them applied for asylum. About 50 percent of them were granted refugee status or protection on humanitarian grounds, according to the U.N. agency.
Francesco Cafiso on the cover of his album 'Happy Time'
Sicilian jazz musician performs
at Obama inaugural event
Saxophone prodigy joins American
jazz greats at Kennedy Center concert
Jan. 20, 2009 -- Nineteen-year-old Francesco Cafiso, the alto saxophone player from Vittoria, Sicily, whose talent has been hailed by internationally recognized jazz musicians in the United States and Europe, performed at the Kennedy Center in Washington, D.C. on Jan. 19.
Cafiso joined American jazz musician and composer Wynton Marsalis and other jazz greats in a concert celebrating both the inauguration of Barack Obama as U.S. president and the life of civil rights legend Martin Luther King Jr.

The concert, called Let Freedom Swing, was organized by Marsalis and other officials with Jazz at Lincoln Center, a New York City jazz orchestra that Marsalis directs.

Cafiso's part in the concert included playing with veteran jazz pianest and composer Dave Brubeck and the Foxborough, Mass., High School Jazz Ensemble.


Although he only recently completed high school himself, Cafiso has already collaborated extensively with many of the most prominent American jazz musicians in New York and New Orleans. Few would disagree that he has strengthened the longstanding ties between jazz musicians and enthusiasts in America and Italy and Sicily, where jazz is a popular music genre.
Cafiso began what the jazz world views as an amazing career at the age of 9, when he started playing the saxophone professionally in Italy. At the age of 12, he won the Massimo Urbani National Award, an annual recognition of Italy's outstanding young jazz musicians.
His big break came the following year, in 2002, when he met Marsalis at the Pescara Jazz Festival, an annual event in the City of Pescara on Italy's Adriatic coast. Marsalis, a trumpet player, band leader and jazz composer, was so impressed with then 13-year-old Cafiso's playing abilities that he invited him to join his band on its tour of Europe that year.
The following year, at Marsalis's invitation, Cafiso joined Marsalis in performing at Lincoln Center in New York with the Lincoln Center Jazz Orchestra. In 2004, he accompanied Marsalis and other American and European musicians in performing at several of Europe's most prestigious jazz festivals.
A biography on Cafiso's official website says Cafiso went to New Orleans a short time later to study with jazz clarinetist Alvin Baiste. While there he also played with other important American jazz musicians, including pianist Ellis Marsalis, Wynton Marsalis's father. He chose New Orleans as a place to learn and play his beloved saxophone, in part, to give him an opportunity to improve his English-speaking skills, his bio says.
In February 2006, at the age of 16, Cafiso received a certificate in classical music at the Bellini Musical Institute in Catania, Sicily, with a specialty in the flute.
His first compact disc recording for his performances on the saxophone came out in 2001. Since then he played in at least nine more CD recordings as an accompanist and lead sax player---all on jazz works composed by others. An album released in 2006 called Happy Time was the first to consist of works he composed. Another album released that same year, Seven Steps to Heaven, also consisted of his compositions. His latest album is expected to be released this year.

"It was a great pleasure to be here tonight," Cafiso told SicilyToday.net after his performance at the inaugural concert in Washington.

"Mr. Marsalis invited me tonight to play for the inauguration of Barack Obama. So for me, it was really a pleasure to play with the orchestra, with all the guys. It's beautiful to be in America. Every time I come here it's a wonderful time here. I love America. I love the jazz scene in America. So thanks everybody."

A sampling of his performances can be viewed on video through his website, www.francescocafiso.com.
Sicily hit with surge in
immigrant landings
Christmas arrivals at Lampedusa
prompt emergency measures from Rome
Dec. 30, 2008 -- The ongoing stream of illegal immigrants arriving by boat on Sicily's outer island of Lampedusa reached an all-time high over the Christmas weekend, when more than 2,000 migrants landed by sea, inundating the island's already overcrowded immigrant processing center.
Italy's interior minister, Roberto Maroni, responded by declaring the situation an emergency and put in place a controversial policy of immediately repatriating illegal immigrants if their country of origin could be identified.
"I have given orders to open a center on Lampedusa tasked with identifying and expelling arrivals," the Italian news agency ANSA quoted him as saying.
Italian authorities have said most of the illegal immigrants, known in Italy as "clandestini," arrive on boats that depart from Libya. But the authorities note that Libya serves mainly as a point of disembarkation for the immigrants, who pass through Libya from sub-Saharan Africa.
Efforts by Italy to persuade Libya to intercept migrant boats have been stalled over disagreements between the two countries concerning details surrounding the operations. Maroni said he was hopeful Libyan patrols would begin in full force in January.
Desperate to leave impoverished African towns and cities, the immigrants often risk their lives and expend the little financial resources they have to pay for passage on small, often unsafe vessels headed for Lampedusa. Lampedusa, a picturesque fishing and tourist outpost, is located in the Mediterranean Sea between Sicily's southern coast and the coast of North Africa.
To the immigrants fleeing their homeland, it represents the closest entry point to Europe and a hoped-for better life in Italy or other European Union countries. According to Italian authorities, not all of them make it. Many perish at sea, despite attempts by the Italian coast guard and Italian fishing vessels to rescue passengers from capsized boats.
Tens of thousands if illegal immigrants have landed in Lampedusa and Linosa, another Sicilian outer island, as well as on Sicily's southern shores over the past decade. Although the Italian national government finances immigrant processing facilities on Lampedusa and Sicily proper, the constant flow of new arrivals has created tension within Sicily's tourist industry, which accounts for a significant part of Sicily's economy.
In Rome, opposition leaders to the government of Prime Minister Silvio Berlusconi questioned Maroni's repatriation policy, saying it might be in violation of international agreements on the handling of refugees. One immigrant advocacy group said as many as 60 percent of the foreigners arriving in Lampedusa have asked for political asylum.
They could face death or imprisonment if Italy sends them back without determining the potential threats awaiting them in their homes countries, according the left-leaning immigrant advocacy group ARCI.
Other immigrant advocates called for expanding Italy's efforts to work with African countries, including Libya, along with the European Union and other international agencies, to help address the economic and political conditions that are the root cause of immigrant landings on Sicily and other Southern Italian locations.
North American Sicilian
Confederation meets in Boston
Second annual conference
draws 400 from U.S., Canada, Sicily

Nov. 2, 2008 -- More than 400 people turned out in Boston Oct. 31-Nov. 1 for the second annual conference of the North American Sicilian Confederation, an organization founded in 2007 to promote issues of interest to Sicilians in the Americas.
Leaders of the organization, which uses its Italian name Confederazione Siciliani del Nord America (CSNA), said its mission is to bring Sicilians together throughout North America to promote their common heritage and culture.
Vincenzo Arcobelli, a dual U.S.-Italian citizen who works as a commercial airline pilot in Houston, Tex., was elected last year as CSNA president. He said CSNA also serves as an umbrella for long-established Sicilian American and Sicilian Canadian associations in cities in Canada and the U.S. by facilitating better communication and coordination among these groups.
One of the groups, the Sicilian Association of Greater Boston, served as host to the 2008 conference, which was held at Boston's Westin Waterfront Hotel.
In addition to an opening day session devoted to immigration and youth outreach issues, the conference included entertainment by Sicilian and Sicilian American vocalists.
Among those attending were public officials from Sicily and Italy, including Pippo Gianni, minister of industry for the Region of Sicily; Carmelo Incardona, regional minister of Sicily for welfare, employment, and immigration; and Santi Formica, vice president of the Sicilian Regional Assembly.
Also attending were Amato Berardi, a member of the Italian Chamber of Deputies, the lower house in Italy's national Parliament; and Basilio Giordano, a member of the Italian Senate. Both represent Italian citizens living in North and Central America under a provision in Italy's election law that allows Italians living abroad to elect representatives to Parliament.
Another conference participant included Washington, D.C. resident Carmelo Cicala, coordinator of USA Comites, a coalition of organizations throughout the country that represent Italian citizens living in the U.S.
Undersea landslide caused
Messina devastation in 1908
New study says Sicily
at risk for killer tsunami
A massive underwater landslide in the Ionian Sea rather than an earthquake is now believed to have been the cause of the tsunami that destroyed much of the Sicilian city of Messina in 1908, according to a new study conducted by researchers at the University of Rome and the University of Messina.
The powerful earthquake that struck Messina on Dec. 28, 1908, was long thought to have been the cause of the tsunami that crashed onto the coastal areas of Messina and nearby towns, killings thousands of people and destroying nearly all structures in its path.
But the new study, headed by University of Rome geologist Andrea Billi, confirmed that a landslide occurred along the undersea shelf in the Ionian Sea about 50 to 60 miles east of the Sicilian town of Giardini-Naxos.
Billi and his research collaborators calculated that the 1908 tsunami traveled at a speed of at least 60 miles per hour across the Straight of Messina, causing serious damage along the coastal areas of eastern Sicily and Calabria, a section of the Italian mainland.
The study is scheduled to be published in an upcoming issue of Geophysical Research Letters, a journal published by the American Geophysical Union.
New tsunami warning for Sicily
Although the Billi study concludes that the 1908 tsunami was caused by an undersea landslide, another study released less than a month before the Billi study warns that Sicily and other parts of Southern Italy currently are at risk of being hit by a tsunami unleashed by an earthquake in the Mediterranean Sea.
Geophysicist Stefano Lorito of the National Institute of Geophysics and Vulcanology in Rome, the lead author of the earlier report, said he conducted an assessment of the risk of earthquakes in the Mediterranean area and simulated a potential tsunami that could be triggered by a possible quake.
His study found that an earthquake off the coast of Greece or North African could create a tsunami more than 16 feet high that would strike the southeast coast of Sicily within an hour. The study found that an especially powerful earthquake could create a tsunami nearly 50 feet high with the potential of creating great destruction along Sicily's eastern coast.
"Landslides are a frequent and unpredictable phenomenon," Billi told the Italian news service ANSA. "Nevertheless, a better knowledge of areas at risk could be of great help for preventive civil protection," he said.
An exhibition called Earthquakes of Italy, which has been on display in the Sicilian town of New Gibellina, includes photos and documents associated with the 1908 earthquake and tsunami that hit Messina as well as earthquakes in other parts of Italy. Among those documented in the exhibition was the 1968 quake that destroyed "old" Gibellina and a number of other nearby towns in an interior section of Western Sicily.
New Gibellina's Civic Museum of Contemporary Art hosted the exhibition from early February through March 9. It is scheduled to travel to Northern Italy over the next several months before opening in Messina in December to commemorate the 100th anniversary of the Messina earthquake.
Sicily's president resigns after
obstruction of justice conviction
'Cannoli' incident triggered
outrage by supporters
Feb. 1, 2008 -- Salvatore Cuffaro, president of the regional government of Sicily, resigned from office on Jan. 26, eight days after a Palermo court convicted him of obstructing justice for allegedly alerting a Mafia boss through intermediaries that the boss was the target of a police investigation.
Cuffaro, a popular politician who won re-election in 2006 while under indictment, insisted he was innocent. He announced on the day of his conviction that he would remain in office while he appealed the court's verdict and a decision by a panel of judges to sentence him to five years in prison. Appeals in the Italian court system often take years to complete.
But supporters and opponents alike became outraged the day after the verdict when Cuffaro was photographed handing out cannoli pastries at a party in his office. He reportedly called the party to celebrate his acquittal on a more serious charge of intentionally helping the Mafia as an organization.
He insisted he received the cannoli as a gift and he was merely moving them on a pastry tray when he was photographed. Few people accepted that explanation. Many of his longtime supporters said the apparent celebration in his government office was an embarrassment to them and further tarnished the image of Sicily.
"A conviction and a five-year prison sentence shouldn't be cause for celebration," the president of the Sicilian Regional Assembly, Giofranco Micciche, said after learning about the office celebration.
Micciche is a member of Italy's Forza Italia party which has been one of Cuffaro's strongest political supporters. Former Italian Premier Silvio Berlusconi, who is considered the frontrunner in Italy's national elections set for April 13, founded Forza Italia and has been a vocal supporter of Cuffaro.
Some of Cuffaro's political allies rallied to his support. A majority of the members of the Sicilian Regional Assembly passed a resolution of solidarity calling on him to remain in office. But opponents in Rome cited a national law requiring elected officials convicted of an offense similar to Cuffaro's to resign or face impeachment. It was the prospect of an impeachment proceeding that most likely prompted Cuffaro to resign, according to some Italian political observers.
A special election to replace Cuffaro has been scheduled for April 13, the same day that Italians will go to the polls to elect a new national Parliament in Rome and a new prime minister.

Casa Sicilia President Gaetano Cipolla
January 25, 2008

Casa Sicilia closes office at
Empire State Building
Future activities unclear;
Alitalia was landlord
Casa Sicilia, a non-profit association sponsored by the Sicilian regional government to promote the culture and image of Sicily in the United States, has closed its offices in the Empire State Building less than two years after it began a lecture series there on Sicily related topics.
The opening of the office in late 2005 was announced with great fanfare by the U.S. based Sicilian cultural group Arba Sicula and its president, St. John's University professor of Italian Gaetano Cipolla, who serves as president of Casa Sicilia. Arba Sicula made no official announcement about the closing of the Casa Sicilia office or about Casa Sicilia's plans for future activities.
An official with the Empire State Building's business office said Casa Sicilia moved out of the building "several months ago" and left no forwarding information.
In response to an inquiry from SicilyToday.net, Cipolla said the Empire State Building facilities were too expensive and the group is now operating out of the St. John's University campus until another location can be found.
"We had to close that venue," he said in a brief statement. "The place was too expensive for us. So right now, Casa Sicilia is housed at St. John's and whatever programs we will conduct we will conduct them here until we find a different place to hold our events."
Stephen K. Eynon, the Empire State Building's office rental agent, said Casa Sicilia had been subleasing its office on the building's 36th floor from Alitalia, the Italian national airline, which holds the lease for the 36th and 37th floors. An official with Alitalia's Empire State Building offices, Daniele Landini, declined to comment on Casa Sicilia's rental agreement with Alitalia, saying such information would have to come from Casa Sicilia.
Cipolla could not immediately be reached for comment on the Alitalia rental arrangement.
Cipolla is an internationally recognized expert on Sicilian history and culture. He has taught courses on the language, civilization, and literature of Italy and has specialized in the study and preservation of the Sicilian language, which he has argued should be treated as a full language rather than a dialect.
He has translated numerous literary works, including poetry and plays, from Sicilian into English and has taught courses on the skills of language translation. In his role as president of Arba Sicula, he has served as editor of that organization's academic journal and its bi-annual newsletter, Sicilia Parra.
Cipolla is credited with playing a key role in persuading Sicily's regional president, Salvatore Cuffaro, to sign a 2005 agreement with him to provide funding for the creation of Casa Sicilia, whose official name is Associazione Casa Sicilia Stati Uniti. Literature posted on the Casa Sicilia web site says the non-profit association was charged with promoting the "image, culture, and products of Sicily."
In its spring 2006 edition, Sicilia Para announced Casa Sicilia was beginning an ambitious lecture series to be held at the Empire State Building office between May 2006 and May 2007 that would cover a wide range of topics pertaining to Sicily's history and culture. Cipolla delivered six of the lectures, including one entitled, "What Makes a Sicilian."
Last August, Cipolla told SicilyToday.net that he was about to leave for Palermo in an attempt to resolve a "problem" that Casa Sicilia had encountered, but he said he preferred not to provide further details until he returned to New York. Upon his return, he said he was hopeful the problem could be resolved but again declined to comment further.
In its announcement of the 2006-2007 lecture series, Casa Sicilia released a statement describing its mission and objectives.
"The aim is to inform and educate and to share our understanding of what Sicily is and is not," the announcement said. "Sicily is a vast undiscovered treasure that begs to be seen, and Casa Sicilia hopes to become the vehicle for its discovery…These lectures and presentations will go a long way toward erasing the stereotypes that so often color everything Sicilian."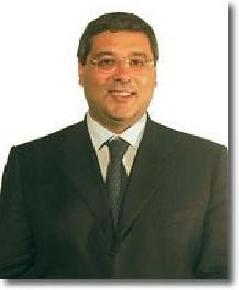 Salvatore Cuffaro
Sicilian president found
guilty of helping Mafia
Salvatore Cuffaro to appeal
verdict, five-year sentence
A Palermo court on Jan. 18 found the president of Sicily's regional government, Salvatore Cuffaro, guilty of having helped the Mafia by allegedly passing confidential law enforcement information to a Mafia figure in Palermo through intermediaries.
Cuffaro, 49, a physician and close ally of former Italian Premier Silvio Berlusconi, has insisted he is innocent and strongly denies he has "aided and abetted" the Mafia, as prosecutors charged in an indictment handed down in 2004.
A Palermo judge sentenced Cuffaro to five years in prison before staying the sentence until Cuffaro completes an appeal process that comes automatically following the trial that found him guilty. The appeal could take years to complete.
The conviction of Sicily's highest elected official on Mafia related charges comes at a time when experts say the notorious organized crime group is in disarray due to an intense government crackdown and an unprecedented mood of defiance against it by the public and business leaders.
Prosecutors charged Cuffaro with supplying a group of "informers" with ties to the Mafia with information about a pending police investigation into one or more Mafia bosses. The informers then allegedly passed the information on to at least one Mafia figure who was the target of the investigation, the prosecutors charged.
A panel of judges ruled that while Cuffaro supplied information that helped the Mafia, prosecutors failed to present sufficient evidence to prove his actions were part of a conspiracy or that he had a "willful intent" to aid the Mafia. Instead, they found him guilty of a lesser charge of providing confidential information that landed in the wrong hands.
Under Italy's court system, judges render verdicts in criminal trials.
"I knew I didn't do anything to willfully help the Mafia, and tomorrow morning I intend to be back at my desk," the Italian news agency ANSA quoted him as saying after the court adjourned. "I have always fought against the Mafia, which is a cancer in Sicily," he said.
"I am totally certain that I will be fully acquitted at the end of the appeal," ANSA quoted him as saying.
Since prosecutors first implicated Cuffaro on the Mafia charges, he has refused demands by political rivals that he resign from office, saying he was fully capable of fulfilling his duties while fighting the charges. The law requires that he be removed from office if he loses his appeal.
Businesses defying Mafia threats
His conviction comes at a time when Sicilian and Italian national law enforcement officials have been credited with wounding the Sicilian Mafia during an intense, two-year crackdown. The law enforcement initiatives have resulted in the capture of "boss of bosses" Bernardo Provenzano and his successor, Salvatore Lo Piccolo, during dramatic police raids that captured the attention of Italians from Sicily to Milan.
The two Mafia bosses had been in hiding for more than 20 years. Unlike past crackdowns, which almost always resulted in the resuming of business as usual, the latest enforcement action has been different, police officials have said. Among other things, police confiscated secret ledger books along with slips of paper that Provenzano, Lo Piccolo, and others arrested in the recent raids used to keep track of businesses targeted for extortion.
In a development not seen in the past, a growing number of small and medium size business owners have since defied the Mafia code of silence, known as "omerta," by identifying to police the Mafia lieutenants who extract protection money from the businesses. Once identified, authorities quickly arrested these enforcers of the "pizzo," or protection money, which businesses have long accepted as a Mafia tax that had to be paid. A number of those arrested have been sentenced to lengthy jail terms.
Protection money extorted from Sicilian businesses has been one of the Mafia's main sources of revenue, according to Tanno Grasso, director of Italy's Anti-Racket Federation.
Grasso told the Italian news media that the courageous action by the businesses was a new and encouraging trend that was helping authorities fight the Mafia. But he said the protection money rackets were "far from collapsing" and the threats and fear instilled by the Mafia in Sicily was still strong.
Cuffaro has said he welcomes the anti-Mafia enforcement initiatives and applauds the businesses for standing up against the protection rackets.
Supported by voters
A popular figure who started his career as a radiologist, Cuffaro first won election as Sicilian regional president in 2001 by defeating Leoluca Orlando, the former Palermo mayor and one of Italy's most vocal anti-Mafia leaders. In 2006, while under indictment, Cuffaro won two separate elections, confounding his critics, who acknowledged he clearly had retained the confidence of a majority of the voters.
He won election to the Italian national Senate in the spring of 2006 as a staunch ally of Berlusconi, who, at the time, was head of the Italian government. A short time later, Cuffaro won election to a second term as Sicilian president, receiving 53.1 percent of the vote. In a development that disappointed reformist and anti-Mafia groups, he did so by defeating challenger Rita Borsellino, sister of the late Judge Paolo Borsellino, who was assassinated by the Mafia in 1992 on a Palermo street.
"He has the full backing of Berlesconi, who has tremendous sway in Sicily," said Justin Vitiello, a former Temple University Professor of Italian and a writer who has collaborated with reformist groups in Sicily and taught courses there since the 1980s.
Vitiello said Berlusconi's center-right coalition of political parties in Italy, and the small, conservative and Catholic oriented party, the UDC, to which Cuffaro is associated, are backed by many Sicilians because they support government funding for large public works projects in Sicily. Such projects provide jobs in a region that has long been faced with high unemployment rates.

Friday, December 7, 2007

Sicily emigration exhibit
opens on Ellis Island
PR campaign by steamship companies said
to trigger mass Sicilian exodus in 1880s
A professor from Sicily's University of Messina told a conference at the Ellis Island Museum in New York that a profit-motivated public relelations campaign led by steamship companies may have triggered a 40-year mass migration of Sicilians to the United States that began suddenly in the 1880s.
The Nov. 3 conference was held to commemorate the opening of a new exhibit called Sicilian Crossings to America and the Derived Communities. The exhibit is on loan to the U.S. from Italy and will remain open at the Ellis Island Museum through Feb. 3.
Government officials from Italy and Sicily joined U.S. officials, including New York State Comptroller Thomas DiNapoli and New York State Senator Kenneth La Valle, both of Sicilian heritage, in greeting conference participants.

The exhibit consists of 120 panels of photographs that "tell the story of why, when, how and from where masses of Sicilians emigrated to the United States, as well as the story of their developing relationships in the New Word," according to literature released by the exhibit's organizers.

University of Messina Professor Marcello Saija, the lead organizer of the exhibit, told the conference that harsh economic conditions in Sicily clearly played a role in motivating more than a million peasants, laborers, and others to consider leaving their homeland for a better life in America toward the end of the 19th Century.
But he said bad economic conditions, including widespread poverty and tyrannical rulers, had gripped Sicily to varying degrees of severity over the generations. Yet it was not until the 1880s that such a large number of Sicilians chose to leave. What made this period different than the harsh conditions of prior times?
Steamship company propaganda
According to Saija, a confluence of developments, including new technology that ushered in the era of the passenger steamship, opened the way for the mass emigration. The steamship made it safe to transport large numbers of people across the ocean on a single boat in days rather than weeks, he said.
Saija said the steamship companies joined other businesses profiting from emigration by unleashing public relations campaigns, which he called "propaganda by emigration agents," to promote the notion that everyone could get rich in the new world.
Meanwhile, a rapidly expanding U.S. economy at the end of the 19th Century made it relatively easy for the arriving immigrants to find work, Saija said.
"In other words, the American dream," he said.
Saija noted that Italian filmmaker Emanuele Crialese said he was inspired to make his highly acclaimed film about a Sicilian immigrant family called Golden Door after spending time visiting the Salina Museum of Emigration, located on Salina Island off Sicily's north coast. Saija serves as director of the Salina Museum, which shows what life was like for the Sicilian emigrants before they departed their homeland.
Golden Door opened in U.S. movie theaters earlier this year. It depicts the experiences of a young Sicilian family traveling from Sicily to Ellis Island onboard a steamship typical of those that carried millions of others on similar journeys. It has been praised for its dramatic cinematography that captures scenes of crowds of immigrants joining the Sicilian family in crammed quarters in the ship's steerage section.
Teddy Roosevelt and 1908 earthquake
Professor Salvatore LaGummina, director of the Center for Italian American Studies at New York's Nassau Community College, told the conference that the devastating earthquake that struck Messina and nearby Regio di Calabria in 1908 also contributed to the Sicilian migration to the U.S.
LaGummina has conducted research on the impact of the 1908 quake on the lives of Sicilians. He told of how on Dec. 28, just three days after Christmas, Europe's most powerful earthquake in modern times hit at about 5:20 a.m., with the epicenter identified as being in the Strait of Messina, which separates Sicily from mainland Italy.
The quake caused 40-foot high tsunami-like waves that crashed into dozens of coastal towns and cities, "spreading viscous, impassable mud in the streets, resulting in enormous casualties—perhaps as many as 200,000 perished," LaGummina said in written remarks.
"Survivors faced the bleakest of realities—homes destroyed, family members dead, and nearby cities and villages reduced to rubble," he said. "There were reports of survivors wandering about dazed, demented and nude, while widespread looting and vandalism required massive deployment of police and troops to keep order."
An untold number of survivors left for the United States during the months and years following the earthquake as the Italian government struggled to put in place a massive relief effort, LaGummina said.
In a little remembered episode of U.S.-Italy relations, the United States Navy played a major role in the relief effort, LaGummina said. U.S. Naval ships brought in huge supplies of food and building construction materials, and American naval personnel became "vigorously engaged in actually erecting the homes that became known as 'the American village,'" LaGummina told the Ellis Island conference.
American involvement in the relief effort was highlighted by a personal visit in April 1909 by then former U.S. President Theodore Roosevelt, who was greeted upon his arrival by the King of Italy, LaGummina said.
Rural peasants left before coastal city dwellers
Saija told the conference that the first wave of emigrants leaving Sicily in the 1880s and 1890s mostly were from the rural interior of the island and lived under a "feudal" economy controlled by large landowners. The landowners represented the "old Sicilian aristocracy," which relied on Mafia enforcers to keep a firm control over the workers, who were consigned to a role of day laborers in the fields, Saija told the conference.
"In this society, the workers did not have hope in the future, and when the season of emigration starts, they left soon," he said. "They brought with them the social culture of their poor zones," Saija told the conference, which often meant they lacked social and community support networks that helped other immigrants adapt to life in the U.S.
"Absolutely different is the culture of solidarity of Sicilian people coming from the east part of the island," from some of Sicily's outer islands, and from the coastal communities where more people owned small parcels of land, Saija said.
He said people in these areas did not choose to leave until after the turn of the 20th Century. Although they were better off than their rural counterparts, they decided to emigrate to America because of the hope of making greater economic gains, again in response to the lure of the "American dream," Saija said.
The latter group brought with them far better social networking skills and quickly formed Italian American organizations and institutions to help each other integrate into American society, he said.
Others speaking at the conference were Professor Gaetano Cipolla of New York's St. John's University, who serves as president of the Sicilian American group Arba Sicula; Professor Mario Mignone, Center for Italian American Studies, State University of New York, Stony Brook; Professor Stanislao Pugliese, Hofstra University; Professor Peter Carravetta, Queens College; and Professor Maria Taranto, Nassau Community College.
The Italian officials participating in the event included Francesco Talo, Italian General Counsul of New York; Dr. Santi Formica, Sicilian Regional Representative for Job and Emigration Issues; Domenico Nania, member, Italian Senate; and Olga D'Antona, Italian Parliament.
Also participating in the conference were Richard Balducci, former Connecticut State Senator; and Paul Di Gaetano, former majority leader of the New Jersey State Senate.
10-30-07
Sicilians of North America
form new organization
More than 300 attend
Atlantic City 'congress'
Delegates from the United States, Canada, and Sicily met in Atlantic City, N.J., on Oct. 27 to finalize the creation of the North American Sicilian Confederation, which organizers have called an historic new voice for Sicilians.
More than 300 people turned out for the Atlantic City meeting, which was billed as the group's first national congress. An additional 400 people, including family members and guests, attended a gala dinner and celebration of the confederation, held in the evening following the congress. The events took place at the Trump Plaza Hotel.
Vincenzo Arcobelli, a dual U.S.-Italian citizen who works as an airline pilot in Dallas, Tex, was elected president of the confederation in January, when organizers created the group as a non-profit corporation.
"Our objective is to bring together Sicilians throughout North America to promote our heritage and culture," Arcobelli told SicilyToday.net.
He said the group also would serve as an "umbrella" for dozens of Sicilian-American and Sicilian-Canadian associations already in existence by facilitating better communication and coordination among these groups.
"Some of us have dual citizenship," he said. "Others are American citizens of Sicilian heritage and others are Italian citizens from Sicily who live and work in the U.S. or Canada."
He said no one from Mexico attended the Oct. 27 congress, but Mexicans of Sicilian background would be welcome to join and participate in the confederation's activities at any time.
Arcobelli said the new organization, which also uses the Italian version of its name, Confederazione Siciliani Nord America (CSNA), would serve a number of functions, including promoting the Italian language among the younger generation of Sicilian Americans and Sicilian Canadians.
He said the group also would promote the "preservation" of Sicily's cultural heritage and history among North Americans of Sicilian background.
From a political perspective, the group will provide a unified voice for Sicilians living in North America in expressing their views and concerns to their respective governments in the U.S., Canada, and Italy, Arcobelli said.
Maintaining and nurturing the longstanding friendly ties between the three countries and boosting economic development in Sicily are also important objectives, he said.
One potentially controversial proposal the group plans to pursue is advocacy for a bridge connecting Sicily to the Italian mainland, Arcobelli said. Plans for building what would be the world's largest suspension bridge have been discussed in Italy for more than 20 years.
Former Prime Minister Silvio Berlusconi, who heads Italy's coalition of center-right political parties, took steps to move ahead with the bridge during his recent tenure in office. But Italy's current prime minister, Romano Prodi, cancelled the bridge project after his center-left coalition defeated Berlusconi in Italy's 2006 national election.
Berlusconi and many of Sicily's regional government leaders have vowed to continue to fight for the bridge. With Prodi's governing coalition considered weak, Italian political observers have said Berlusconi or other rivals may yet resurrect the bridge project in the near future.
Arcobelli said the bridge would promote tourism in Sicily by making it easier for American and Canadian tourists, as well as tourists from other places, to reach Sicily from mainland Italy. It would also boost Sicily's agricultural sector, which currently must transport farm products by boat to the mainland.
He said the confederation would "absolutely not" become involved in partisan politics, either in Italy, the U.S. or Canada. What organizers hope to do, he said, is push for what they believe would be in the best economic interest of all three countries.
More information about the North American Sicilian Confederation and announcements of its activities can be obtained from its web site, www.CSNA2007.org.
Friday, October 26, 2007

Sicilian Mafia, other crime groups
pull in $130 billion in 2006
Report says big four 'mafias' earn more than Italy's largest corporation

Italy's four largest organized crime groups, including the Sicilian Mafia, earned a combined total of nearly $130 billion (90 billion Euros) in 2006, the equivalent of 7 percent of the country's gross domestic product, according to the Italian national retailers association.

The association, Confesercenti, released a report in late October showing that the annual earnings of the four crime groups surpassed the earnings of Italy's largest Fortune 500 corporation, the oil and gas giant ENI.

"Every stage in the production chain, from sourcing, packaging, processing, and distribution to portage, is under control of, or pressure from, organized crime groups," the Confesercenti report says, citing organized crime involvement in the fruit, vegetable, and meat businesses.

It called the tourism industry "one of the most lucrative businesses for the gangs, which invest in hotels, apartments and holiday villages."

The report, which received widespread coverage in the Italian news media, emerged during a year in which Italian authorities took credit for making important progress in their fight against the Sicilian Mafia:

-In a dramatic raid on a Sicilian hideout, police on Nov. 5 arrested top Mafia leader Salvatore Lo Piccolo, who had been a fugitive for 24 years. The arrest of Lo Piccolo, along with his 32-year-old son and top lieutenant, Sandro Lo Piccolo, and two other high-level Mafia associates, were called a "decisive turning point" in Italy's battle against organized crime.

-A court in Palermo on Nov. 16 imposed prison sentences of between 10 and 16 years for three Mafia operatives who were convicted of attempting to extract "protection" money from the owner of a popular restaurant, who blew the whistle on the three men. The restaurant owner's decision to rebel against the lonstanding protection racket was part of an unprecedented trend among business owners in Sicily in 2007 to resist extortion schemes that authorities say have fueled the Sicilian Mafia's profits and power.

-Authorities orchestrated another blow against the Sicilian Mafia on Dec. 4, when police shot and killed Daniele Emanuello, said to be the leader of a powerful crime family in Gela, an important coastal city where Sicily's oil refineries are located. Police said Emanuello was shot when he attempted to escape a police raid on a farmhouse where he had been hiding. He had been a fugitive since 1993.

The confesercenti report says the largest single source of income for the organized crime groups appears to be loan sharking, which targets about 150,000 companies in Italy, including small to medium-size shops.

According to the report, a sizable portion of the organized crime groups' income -- about $8.7 billion (6 billion Euros) -- comes from protection rackets, which persuade business owners to pay "to be left alone." It says about 132,000 of the 160,000 victims of protection, or extortion, rackets do business in four regions of the country -- Sicily, Campania, Calabria, and Puglia.

The Mafia in Sicily appears to extract a higher protection "fee" than the Camorra, the organized crime group that dominates Naples, the report says. For example, in Naples, a typical shop owner pays about 100 to 200 Euros per month while a similar shop owner in Palermo pays between 200 and 500 Euros per month, the report says.

"[P]rotection rackets thrive in daily routine," the report says. "People get used to them and they enter people's lives, taking root in workshops, companies, construction sites and the professions. 'Pay up and we'll let you work in peace,' say the gangsters."

An official with Confesercenti told La Sicilia, a daily newspaper in Sicily, that the association was hopeful the report would help Italian law enforcement officials develop strategies for cracking down on organized crime groups that target businesses.



Sicily, Italy hit by 'Grillo-mania'
Comedian, blogger shakes up political
establishmet from Palermo to Rome
Politicians in Sicily and throughout Italy are watching with interest as voters in growing numbers express support for a comedian and blogger who is calling for sweeping changes in Italy's system of elections and political parties.

Riled up citizens in at least 11 cities in Sicily joined fellow Italians in unprecedented numbers on Sept. 8 in signing a national petition demanding that the government adopt the electoral changes. The petition drive was organized by political gadfly Beppe Grillo, 59, a stand-up comic and well-known television figure, who says most of Italy's politicians are out of touch with the people.

The widespread support for the national petition campaign caught Italy's political establishment by surprise and alarmed leaders of both the governing and opposition party coalitions.
Among other things, the petition calls for direct election of candidates to Italy's national parliament rather than the current system where the political parties select the candidates and voters choose only candidate "lists" under a party name.
The petition also calls for limiting politicians to two terms in office and for banning candidates from running for office if they have been convicted of a crime.
The latter proposal responds to repeated instances in post-World War II Italy where politicians and political parties have been implicated in political corruption, including the taking of bribes by large corporations.
At some 250 petition-signing booths in Sicily and across the country, Grillo's volunteer supporters collected more than 300,000 signatures on Sept. 8, in an event that Grillo named "V-Day."
The "V" did not stand for victory, however. According to Italian news media reports, in yet another action typical of Grillo's reputation for irreverence and in-you-face behavior, the "V" stood for a commonly used Italian explicative, "vaffanculo," which is equivalent to the English expression "F-off." Thus Italians appeared to embrace what became known as "F-Off Day."
The whole affair might have been written off as a joke, political commentators said, except for the fact that Italy's mainline political polling organization, Renato Mannheimer, released a poll showing that 50 percent of Italian voters would "certainly vote for" Grillo's proposals at the next election or would "consider" voting for the proposals.
Grillo added to the commotion created by the strong support for his petition drive by introducing a new proposal the following week, which he posted on his blog. He announced he would endorse his own list, or slate, of independent candidates for local elections if they pledge to follow his call for "openness" and spurn the established political parties.
"Italy is still digesting the significance of this announcement," the British newspaper The Independent reported on Sept. 21. "In a little over a week, Beppe Grillo has gone from being a satirical comedian, to a putative leader, to the actual leader of a de facto group of candidates, whom he will vet before endorsing."
Italian Premier Romano Prodi and members of his center-left coalition government said Grillo was tapping into longstanding voter dissatisfaction with the existing political order through "demagoguery."
Some Italian commentators cautioned that "mass protests" have sometimes led to the loss of democracy, pointing to Mussolini's rise to power through massive rallies and protests in the streets.
But other commentators and party leaders including, including some from Sicily, said the political establishment should pay careful attention to the Grillo phenomenon.
"In the face of mass criticism, those who are criticized should listen and try to understand," said Fausto Bertinotti, a legislative leader in Parliament with one of the center-left parties. "Grillo is filling a void that exists in politics with some very dubious material, but his criticism should be accepted," Bertinotti said in a television interview.
Grillo stated in his blog, which has become one of the top five most read web sites in Italy, that he, too, was surprised over the widespread support for his petition. The blog, www.beppegrillo.lit, is published in Italian and English.
"They're calling me a guru, someone who mesmerizes crowds," he wrote. "But that just means that they don't get what happened on the streets on Saturday."
According to figures posted on his blog, a total of 19,631 Sicilians from at least 11 cities signed the petition. In addition to Palermo and its surrounding province, which produced 6,700 signatures, other Sicilian cities contributing to the signatures were Bageria, Milazzo, Messina, Catania, Syracuse, Gela, Caltanisetta, Agrigento, Trapani, and Balestrate.
9-24-07
Immigrant boat landings in
Sicily continue unabated
Italy, European Union grapple
with invasion of 'clandestini'
On Sept. 23, an Italian coastguard ship spotted what news reports described as a rubber dinghy carrying 59 immigrants, including eleven women, floating 40 miles south of the Sicilian outer island of Lampedusa.
The immigrants were believed to have set sail from Libya and likely originated from any number of central African countries whose refugees use the northern Libyan coast as a point of departure for Italy or other Mediterranean countries.
As they have several times a week for the past number of years, the Italian coast guard crew took the immigrants onboard and brought them to a holding center on Lampedusa, where officials would determine whether to send them back to their home country or admit them into Italy's immigrant processing system.
Since the late 1990s, thousands of immigrants from North African ports have arrived in Sicily and Southern Italy each year. Their status as undocumented, or illegal, immigrants and their arrival by sea, sometimes in the dead of night, has prompted the Italian media to call them "clandestini," a term that can mean "clandestine persons" or "stowaways."
Sicily has faced the brunt of the problem of receiving the new arrivals, partly because its outer islands of Lampedusa and Linosa are closer to the African coast than to mainland Italy.
Similar to the political upheaval in the United States over illegal immigrants entering the country through the Mexican border, the boat immigrants entering Italy through Sicily have created a similar political storm that spilled over into Italy's 2006 national elections.
Premier Romano Prodi, whose center-left coalition won a slim victory over center-right leader Silvio Berlesconi, campaigned on a platform of reforming the immigrant processing system. Among other things, Prodi promised to reduce the number of immigrant holding centers from 14 to five.
The holding centers have been highly controversial, including the one on Lampedusa. Critics have called them prisons, saying the detainees have encountered overcrowded conditions and have been denied rights of due process.
Opposition party leaders have opposed reducing the number of holding centers, saying the government doesn't have the infrastructure to process the immigrants fast enough to accommodate hundreds or more that arrive each week.
On Sept. 9, for example, a barge with 309 'clandesdini,' including 49 women and 20 juveniles, landed on Linosa.
Legislation proposed by Prodi's government calls for allowing more of the undocumented immigrants to remain in Italy and transition into citizenship status.
Meanwhile, Italy and other Southern European nations have helped to create a number of European Union programs that seek to work with African nations to either reduce the flow of migrants into Europe or improve legal procedures for entering Europe, such as an expanded system of work permits.
Sicilian authorities, in cooperation with the Italian navy and coast guard, have struggled to maintain an orderly system of processing the boat immigrants while trying not to disrupt Lampedusa's reputation as a popular tourist destination. For years, travel books and tourist promoters have portrayed Lampedusa as a near paradise, with its crystal clear water and beautiful sandy beaches.
Radar-equipped naval vessels are used to locate the small boats carrying the immigrants, with the aim of intercepting them before they land directly on the beaches. In many instances, Italian fishing boats and naval vessels have rescued immigrants from the sea after their boats capsized. Many others aren't so lucky, according to Italian authorities.
Large numbers have drowned while others have died in the boats for lack of food and water, authorities have said. Despite these dangers, the clandestini keep arriving, with as many as 10,000 arriving in Lampedusa in 2006, government statistics show.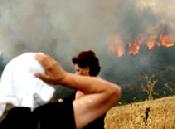 Forest and brush fires threatened towns and villages this summer along Sicily's northern coast.

9-14-07
Long hot summer in Sicily
Forest, brush fires fanned by
Sirocco winds wreak havoc

Sicily and other parts of Southern Italy became scenes of panic this summer as mountain villages, farms, and coastal towns were hit by forest and brush fires to a degree not seen in years.

The rapidly spreading fires came during unusually hot and dry weather conditions that Italian scientists said could be due to potentially dangerous warming trends detected in waters near the bottom of the Mediterranean Sea.



The town of Patti near Sicily's northern coast captured much of Italy's attention in August when a brush fire ravaged a farm resort, killing three people and leaving 17 people injured.

Police said they suspected arson as the cause of the farm fire, drawing attention to reports throughout Southern Italy that many of the forest and brush fires had been set by arsonists.

"Suspicion usually focuses on farmers seeking to clear space for agricultural purposes or construction speculators hoping to win permits to build on protected land," the Italian news agency ANSA reported.



Residential neighborhoods near Palermo and Messina were placed on alert.

Texas company under fire for gas
drilling proposal in Eastern Sicily
Opponents say wells endanger
Baroque towns, nature preserves
Environmentalists and preservationists in Eastern Sicily's Noto Valley are turning up the heat in their ongoing campaign against plans by a Houston, Tex., energy company to drill for natural gas near an area designated by the United Nations as a cultural heritage zone.
Panther Resources Corp., which received a license from the Sicilian regional government to explore for gas in the area in 2004, has been fending off opposition to the drilling by a coalition of local citizens, famous writers, politicians and a Roman Catholic bishop for the past three years.
The company believes there are significant gas reserves in the area and is applying for permits from at least six local and regional governmental entities to gain the right to drill wells to extract the gas from the ground.
Although the company says it would never have drilled on sites underneath or surrounding historic buildings, it relinquished in June its rights for any drilling in the cultural heritage zone, prompting Sicilian Regional President Salvatore Cuffaro to declare a victory in the battle to save historic sites.
U.S. military team in Sicily
searching for war dead
Sicilians help in locating remains
of GIs from World War II
With little or no publicity at home, a five-member team drawn from three branches of the U.S. military arrived in Sicily in September 2007 to continue an ongoing effort to find the remains of about 50 U.S. service members who were declared missing in action at the time of the allied invasion of Sicily during World War II.
Military officials believe the missing service members were aboard 19 planes that crashed during the invasion in the summer of 1943.
"They are going through towns and meeting with officials, including mayors," said Maj. Brian DeSantis, an Army public affairs officer for the Joint POW-MIA Accounting Command, which is located at Hickam Air Force Base in Hawaii.
Welcome to Sicily Today.net
Sicily Today.net is a unique online newsletter about current events in Sicily and about the people and institutions throughout the world that study, do business with, and have an interest in learning more about Sicily.
Known for its rich history and culture, Sicily has played a pivotal role in western civilization dating back to ancient Greece and Rome. Now a breathtakingly beautiful and often controversial part of Italy, Sicily and its people, politics and culture offer a unique lens on the current state of affairs in Italy, Europe and the West.
Sicily Today.net is the only English-language publication devoted exclusively to bringing you information about what's happening in Sicily. Read more...
Website powered by Network Solutions®